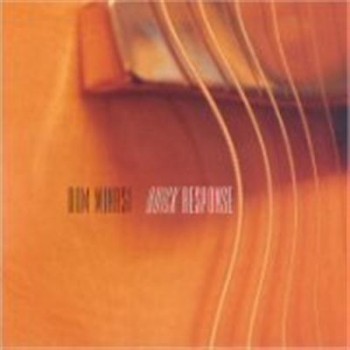 Artist
: Dom Minasi
Title Of Album
: Quick Response
Year Of Release
: 2004
Genre
: Jazz: Straight-Ahead/Mainstream, Hammond Organ
Label
: Self Released
Format
: MP3
Quality
: 320 kbps, 44.1 Khz
Total Time
: 58:50
Total Size
: 137 MB
Covers
: Front
Tracklist:
01. What Is This Thing Called Love (5:25)
02. Feels Like Rain In China (9:54)
03. For My Father (9:05)
04. Quick Response (4:53)
05. I Who Have Nothing (5:46)
06. Into The Night (6:19)
07. Dizzy Lizzie (5:44)
08. When Your Dreams Come Rue (7:40)
09. Softly As In A Morning Sunrise (3:59)
Quick Response is Dom Minasi's latest effort since last year's Time Will Tell, also on CDM Records. Supported by a group of musicians who are no strangers to playing both classic hard bop and avant stuff, Minasi is delivering an album that in a way dwells both in classic and avant-garde territories.

The choice of material encompasses standards such as Cole Porter's "What is This Thing Called Love" and "Softly As in a Morning Sunrise." What is interesting is that these standards are not approached in a classic way like they have been a thousand times before; the musicians take the material as a basis for reinvention and improvisation. From the opening track until the last, one can hear different worlds colliding into one. "Dizzy Lizzy" is actually a tribute to Duke Ellington where Minasi takes the chords of "Take The 'A' Train" and pushes the piece into different territories. (In 2001, Minasi did a tribute album, Takin' The Duke Out, featuring fresh interpretations of classic Ellington compositions, where he paid homage to the great composer.)

"Feels Like Rain in China" features a wonderful sax solo by Mark Whitecage, and Kyle Koehler's organ provides a nice layer of keyboard sounds for the musicians to play atop. There are shades of Wes Montgomery's sound all around, and the band pays tribute to this great guitarist by employing aspects of his signature style on a tune that was never recorded by him: "I Who Have Nothing." The title track features a repetitive rhytmic opening section and the band's playing indicates a variety of influences.

Minasi's arrangements are inventive and challenging, but even though these are excellent performances, the band tends to overplay some times. But then again, this ain't no beginner's work, and it reveals that Dom Minasi and his band have a lot to say (and play). ~Nenad Georgievski

Personnel: Dom Minasi -- guitar; Mark Whitecage -- alto sax; Kyle Koehler -- organ; John Bollinger -- drums

For requests/s, please send me private message.