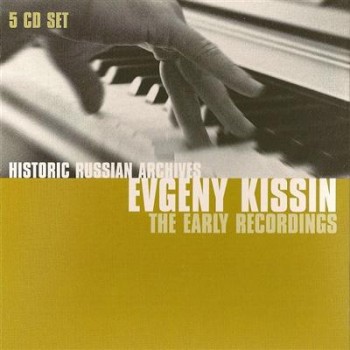 Artist
: Evgeny Kissin
Title Of Album
: The Early Recordings [5 CD Box Set]
Year Of Release
: 2007
Label
: Brilliant Classics [8528]
Country
: Russia
Genre
: Classical
Quality
: FLAC (image+.cue+.log,scans)
Bitrate
: Lossless
Time
: 04:47:31
Full Size
: 1,09 GB
Review by Santa Fe Listener, Amazon.com
:
This is the second of Brilliant's box sets devoted to Russian recordings from Evgeny Kissin. Labeled as early, these live concert performances from 1984 to 1990 carry us from the day after Kissin turned 13 (Mozart Cto. #12 K. 414) to age 18 (Mozart Cto. #20, K. 466), with most readings clustering in the range of 1985-89. Russians were well aware of the marvel in their midst; the pianist's American breakthrough occurred in 1990 when he debuted at Carnegie Hall's centennial season. No one since Richter, debuting almost thirty years before, had made such a heady entry, and Richter was past fifty when he came here (briefly, since he loathed American capitalism and the pace of life in our big cities).

I was as entranced by the child prodigy and mature-beyond-his-years teenager as anyone else, but now that Kissin is ready to turn forty this year, one wonders where he stands artistically. The child prodigy has never looked back on the road to mega-fame (Kissin is the only pianist to give a solo recital in London's immense Royal Albert Hall, for example), but his musical growth has been more problematic, as these discs reveal.

CD 1: Mozart Piano Ctos. no. 12 and 20. The teenage phenomenon proves, even at the age of thirteen, that he has real musicality, as evidenced in two Mozart concertos voiced with sensitivity and assurance. The overall style is extroverted and robust, as are the accompaniments under Vladimir Spivakov. Anyone who expects the subtlety and detail-pointing of Brendel will hear nothing like that. This is Mozart played as a precursor to Beethoven, which was the usual Soviet way. Last year Kissin released a new version of the D minor Cto. K. 466, and he hasn't changed his style, except to become more authoritative. these are enjoyable readings, and the sound is reasonably good, even if the piano is a bit clangy.

CD 2: A mixed program of Bach, Schumann, Rachmaninov, and Szymanowski. Even twenty-five years ago Kissin seemed to lapse into wooden playing with little tonal variation, while the next moment he can turn into a sensitive,nuanced interpreter. For me, the Bach and Schumann items fall into the former category, the Rachmaninov and Szymanowski into the latter. This dichotomy persists, although I'm afraid that in general Kissin has become duller in his interpretations as he's aged. His teenage self was as good as he is today.

CD 3: In this dual program of Chopin and Scriabin, the main attraction is the Chopin, because this material was recorded when he was only fourteen. I was carried back immediately to my astonishment that someone barely past childhood could play Chopin with such subtlety and rightness. This was the composer with whom Kissin gained his greatest early fame, of course. Here the recording is especially clear and natural, and the piano is a good one, so we can marvel afresh at his abilities. By the time he turned twenty Kissin's way with Chopin became more grandstanding, and today it can be stiff and uninvolved. But during this early phase he is miraculously attuned to the composer -- whatever is happening today, overall Kissin remains the most impressive Chopin player of his generation. I am much less acquainted with Scriabin, but this half of the disc, dating from 1988 (when Kissin was seventeen) is less well recorded, and the piano is clattery. My impression is that he can't quite fathom Scriabin's very free, improvisatory idiom. Some of these readings feel jumbled up and haphazard. Not that the level of pianism isn't high.

CD 4: A short program featuring Schubert's "Trout" Quintet, with two fillers, Liszt's knuckle-crunching Rhapsodie espagnole and a single Brahms Intermezzo Op. 116 no. 6. The chief interest is the "Trout," which is miked with Kissin front and center, overshadowing the strings too much. Commercially, Kissin has made almost no chamber music recordings, although he participates regularly in summer festivals of chamber playing in Europe. Here, at age diyeteen, he is marvelous, his fleet, sympathetic playing in perfect sympathy with a group of fine Russian string players led by Spivakov. This performance can hold its own with any I've ever heard and again testifies to the wonders of his early gifts. Comparatively speaking, Kissin hasn't focused on Liszt in his discography, but here, at age sixteen, he makes child's play of the Spanish Rhapsody. His innate taste, breathtaking technique, fleet touch, and lack of vulgarity are such that he could easily surpass most virtuosos, past or present. He lacks only Horowitz's electricity, richter's recklessness, and Pollini's grasp of structure. In the faster passages of cascading notes one is reminded of Grigory Giznburg's very similar and equally amazing playing.

CD 5: An all-Prokofiev program featuring the Paino Cto. no. 3 and Sonata no. 6. Kissin had made several forays into Prokofiev concertos over the years, always to dazzling effect. Here the chief attraction is that he was thirteen when he performed the Prokofiev Third under andrei Christiakov. The conducting is ordinary, the orchestra set back so that the piano can dominate. A few more years would add more sparkle and excitement to Kissin's interpretation, remarkable as it already was in 1985. The Sixth Sonata, followed by a clutch of smaller works, is played with the authority you'd expect from the Russian school, and I'm impressed at the jagged, unforgiving harshness that Kissin is willing to express. He has been chary of recording solo music from Prokofiev but is clearly a master in this idiom.

At Brilliant's bargain price, and with a range of good-sounding recordings, this box will appeal to any lover of Kissin's artistry. He seems less amazing to me as the years pass. Since the fall of the Soviet empire, we've heard other virtuosos of breathtaking virtuosity -- Sudbin, Matsueve, Lugansky among them -- so there's not quite as much wow factor in hearing Kissin today. He was luck in his timing coming West, and also fortunate in his God-given talents, naturally. I just hope that these early recordings don't turn out to be among the best he ever makes. His career could stretch ahead another quarter century, and it would be heartening if those years produced deeper, more impressive artistry.
Tracklist:CD1
:
Wolfgang Amadeus Mozart
Piano Concerto No. 12 in A major KV 414
01. 1. Allegro (10:02)
02. 2. Andante (08:55)
03. 3. Allegretto (05:46)
Piano Concerto No. 20 in D minor KV 466
04. 1. Allegro (14:27)
05. 2. Romanze (10:13)
06. 3. Allegro assai (08:07)
07. Rondo for Piano & Orchestra in D major KV 382 (06:26)
CD2
:
Johann Sebastian Bach
01. Sicilienne, transcription from Flute sonata in E flat major BWV 1031 (03:04)
Robert Schumann
02. Arabeske in C major Op. 18 (07:05)
Sergey Rachmaninov
03. Lilacs (02:05)
04. Prelude in F sharp minor Op. 23/1 (02:48)
05. Prelude in A minor Op. 32/8 (01:39)
06. Prelude in G flat major Op. 23/10 (03:10)
07. Etude-Tableaux Op. 39 - In C minor (03:21)
08. Etude-Tableaux Op. 39 - In A minor (06:08)
09. Etude-Tableaux Op. 39 - In B minor (03:34)
10. Etude-Tableaux Op. 39 - In E flat minor (04:47)
11. Etude-Tableaux Op. 39 - In A minor (02:59)
12. Etude-Tableaux Op. 39 - In D major (03:57)
Karol Szymanowski
13. Etude 'In modo di una canzone' Op. 54/3 (05:02)
Evgeny Kissin
14. Invention No. 1 (01:08)
15. Invention No. 2 (01:07)
CD3
:
Frédéric Chopin
01. Scherzo No. 2 in B flat minor Op. 31 (09:27)
02. Nocturne in F sharp minor Op. 48/2 (07:12)
03. Nocturne in C sharp minor Op. 27/1 (05:21)
04. Nocturne in A flat major Op. 32/2 (05:07)
05. Mazurka in B major Op. 63/1 (02:25)
06. Mazurka in C major Op. 56/2 (01:39)
07. Mazurka in C sharp minor Op. 63/3 (01:54)
08. Waltz in F major Op. 34/3 (02:34)
Alexander Scriabin
09. Prelude in G minor Op. 27/1 (01:45)
10. Prelude in B major Op. 27/2 (01:06)
11. Prelude in B flat minor Op. 37/1 (01:53)
12. Prelude in F sharp major Op. 37/2 (00:49)
13. Prelude in B major Op. 37/3 (01:51)
14. Prelude in G minor Op. 37/4 (00:47)
15. 4 Pieces Op. 51 - 1. Fragilite (02:11)
16. 4 Pieces Op. 51 - 2. Prelude (01:53)
17. 4 Pieces Op. 51 - 3. Poeme aile (00:55)
18. 4 Pieces Op. 51 - 4. Danse languide (01:36)
19. Mazurka in E minor Op. 25/3 (02:00)
20. Etude in C sharp minor Op. 42/5 (03:08)
CD4
:
Franz Schubert
Quintet for piano, violin, viola, cello & double bass in A major ("Trout"), D. 667 (Op. posth. 114)
01. Allegro vivace (12:23)
02. Andante (06:46)
03. Acherzo, presto (03:36)
04. Thema & Variations (07:14)
05. Finale, allegro giusto (06:00)
Franz Liszt
06. Rhapsodie espagnole (Folies d'Espagne et jota aragonesa), for piano, S. 254 (LW A195) (14:46)
Johannes Brahms
07. Intermezzo, No. 6 from Fantasien Op. 116 (03:28)
CD5
:
Sergey Prokofiev
Piano Concerto No. 3 in C major, Op. 26
01. 1. Andante-allegro (09:30)
02. 2. Tema con variazioni (09:11)
03. 3. Allegro ma non troppo (09:26)
Sonata No. 6 in A major Op. 82
04. 1. Allegro moderato (08:32)
05. 2. Allegretto (05:16)
06. 3. Tempo di walzer, lentissimo (07:33)
07. 4. Vivace (06:27)
08. Dance Op. 32/2 (from 4 Pieces Op. 32) (03:06)
Visions fugitives, for piano, Op. 22
09. 1. Ridicolosamente (01:08)
10. 2. Con vivacita (01:19)